Further improving the scalability of the Scalasca toolset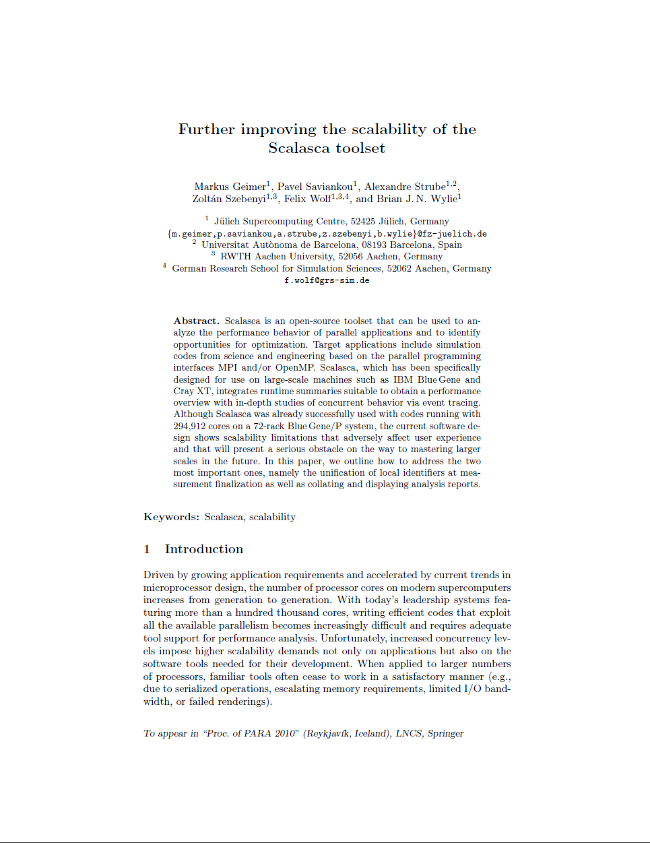 Download
By M. Geimer, P. Saviankou, A. Strube, Z. Szebenyi, F. Wolf, BB. J. N. Wylie.
Published in Proceedings of PARA 2010, Reykjavik, Iceland, 2012.
Cube 4.x series
Cube, which is used as performance report explorer for Scalasca and Score-P, is a generic tool for displaying a multi-dimensional performance space consisting of the dimensions (i) performance metric, (ii) call path, and (iii) system resource. Each dimension can be represented as a tree, where non-leaf nodes of the tree can be collapsed or expanded to achieve the desired level of granularity. In addition, Cube can display multi-dimensional Cartesian process topologies.
The Cube 4.x series report explorer and the associated Cube4 data format is provided for Cube files produced with the Score-P performance instrumentation and measurement infrastructure or the Scalasca version 2.x trace analyzer (and other compatible tools). However, for backwards compatibility, Cube 4.x can also read and display Cube 3.x data.
This software is free but copyrighted
© 1998-2019
Forschungszentrum Jülich GmbH, Germany
© 2009-2015
German Research School for Simulation Sciences GmbH, Jülich/Aachen, Germany
By downloading and using this software you automatically agree to comply with the regulations as described in the Cube v4 license agreement.
Cube Packages
ATTENTION: Since version 4.4 Cube has been split in its components and is distributed in form of four separate packages: CubeW, CubeLib, CubeGUI and jCubeR.
Version
Date
Description
CubeW 4.4.3

1-Aug-2019

High performance C Writer library

Latest Release
MD5sum: 0d9cb76b2baa817a5defa67391b6f193


Includes:

Fixed generation of PDF Documentation.
Minor fixes.

CubeLib 4.4.4
1-Aug-2019

General purpose C++ library and tools

Latest Release
MD5sum: e5a6ace1b1b7c07f951f2d1d9283dd23


Includes:

Requires support for the C++11 for the build.
Fixed handling of attributes and parameters by the library and tools.
Extended CubePL with the support of a custom aggregation operator for the postderived metrics.
Do not loose attributes during the remapping anymore.
Fixed generation of the documentation.
Improved rerooting.

CubeGUI 4.4.4
1-Aug-2019

Graphical explorer

Latest Release
MD5sum: 0394f3a85b1e59a08228670529da503e


Includes:

Requires support for the C++11 for the build.
Improved detection of Qt modules.
Display attributes in Info Widget.
Do not reset zoom level in System Topology Plugin.
Various bug fixes in GUI.


Requires : Installed CubeLib 4.4.x
jCubeR 4.4.2
1-Aug-2019

Java reader library

Latest Release
MD5sum: 5cfcef04c4c20b51705d99c2ae425a0d


Includes:

Fixed handling of ghost metrics. They are ignored gracefuly as they are not supported.
Fixed issue with 0 bytes metric data size.
Minor fixes.

Supplementary packages for download (Comfort zone)
Bundle 4.0

MD5sum : 950127c39b7b647c25e8cae8f6cff4fc
Version 4.0 contains CubeLib 4.4.4, CubeGUI 4.4.4 and CubeW 4.4.3
win32 binary

MD5sum : 1cb6bf4ca63c17fab262a77bca59d938
Contains CubeLib 4.4.4, CubeGUI 4.4.4 and CubeW 4.4.3
Mac OS .dmg

MD5sum : 464ca9939284e1acb4c6299177000a71
Contains CubeLib 4.4.4, CubeGUI 4.4.4 and CubeW 4.4.3
Cube Java Reader (JAR)

MD5sum :3e2b02301b6d05535e0be2cd59539e55
Contains jCubeR 4.4.2
4.5 Release preview ( not an official release)
CubeW
MD5sum : f31157c067632f46cbc274fb53a36b81
Includes:

Various bug fixes in library.

CubeLib
MD5sum : 8d32f6c8f0075304dfebea9ab353dbaf
Includes:

Various bug fixes in library.

CubeGUI
MD5sum : 19fa8e9a313886c40d726d44079692b8
Includes:

"Advisor" plugin.
"Scaling" plugin.
"Tau2Cube" plugin.
Support for client/server setup.
Various bug fixes in library.

jCubeR
MD5sum : 38db9b95a1c8a2da57acb3ced8e0e74f
Includes:

Various bug fixes in library.

Latest trunk (Developers zone, NO WARRANTY )
CubeW
CubeLib
CubeGUI
jCubeR
CubeGUI i18n

Contains *.ts files of actual CubeGUI/trunk and might be incomplete.
Use Qt Linguist to add or correct translations.
Send updated *.ts files to Scalasca development team and we will be happy to include it to the list of supported languages.
Additional Cube Plugins
With 4.4 version of Cube we provide a set of additional plugins, which can be build and installed additionally to Cube GUI/Library 4.4. Note that they have additional prerequisites, which need to be installed before.
Please note that it is an EXPERIMENTAL development and we do not provide any warranty.
Cube Plugins were tested only on Linux Ubuntu with Qt 5.9.1 and have no documentation so far. Requirements (Score-P, OTF2, CubeGUI or similar) need to be available via PATH.
Plugin Name
Date
Description
ScorePion 0.2
10-Sep-2018

Score-P/Intel compiler filter creation plugin

Latest Release
MD5sum: 99e3bd3cecdf1b9a6d70897bd8ed9449


Allows to build/edit a filter file while exploring an experiment and selecting regions or files to be included or excluded in the filtering process. Allows to store the created filter file in Score-P format (.flt) or as an intel compiler filter file (.ifl)

Requires : Installed Score-P ==v4.0 (!)


Blade
07-May-2018

Simple OTF2 trace explorer

Latest Release
MD5sum: 305804fad578b1b6e4e188bd71b9b922


If experimental directory contains an OTF2 trace, this plugin allows to browse it and study communication patterns. Suitable only for small traces.

Requires : Installed Score-P >=v4.0 or OTF2 >=v2.1.1


JengaFett 0.2
10-Sep-2018

Metrics correlation explorer

Latest Release
MD5sum: 07a842a6a1fe9b7ca90457947f03d6fa


This plugin allows to display correlation between metrics as a parallel bar charts distribution across the system tree.


CallGraph
07-May-2018

Call graph display

Latest Release
MD5sum: eb48d4f7084cd5f6c53444eef0677fe4


This plugin builds a call graph based on call tree and assigns the metric values to the edges. Allows to detect a critical calls in the program execution.

Requires : Installed Graphviz


Supported Platforms
The Cube tool set has been successfully tested on the following platforms:
Linux (x86, x86_64, ia64, PPC, Power)
IBM BlueGene/Q
AIX (Power)
Cray
Mac OS X (x86_64) (10.8 and younger)
Windows 7 ( experimental )
In addition, the provided configure options (see installation instructions for Writer, Library and GUI) may provide a good basis for building and testing the toolset on other systems. Please report success/failure on other platforms to the Scalasca development team.